Documentation
| GParted | Translations |
| --- | --- |
| GParted Manual | České, Deutsch, ελληνικά, Español, Français, Italiano, Português do Brasil, Română, русский, српски, Српске Латиница, svenska |
| Manual Page | Français |
| | |
| GParted Live | Translations |
| GParted Live Manual | |
| Install on USB | |
| Install on PXE Server | |
| Install on Hard Disk | |
| Add Packages in GParted Live | |
| Create GParted Live from Scratch | |
| | |
| General Information | Translations |
| Why Partition your Disk Device? | |
| How-to Fix Invalid MSDOS Partition Tables | |
Book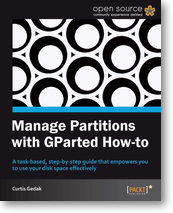 Manage Partitions with GParted How-to is a practical, hands-on guide providing you with step-by-step instructions to effectively organize your hard drive.

For more details and a sample chapter from the book, see Moving space between partitions.

For book reviews, see amazon.com, techgage.com, mwpreston.net, and garron.me.
Third Party Docs
Howto Guides (Old)
LarryT created some of the first documentation for GParted, which was last updated on 06/01/2007 and is no longer maintained. See: TuxFamily GParted-LiveCD documentation
---
Related Docs
A collection of documents I used while working on several aspects of gparted.

(lib)parted documentation
Large Disk HOWTO
Secure Deletion of Data from Magnetic and Solid-State Memory
Comparison of filesystems
Master Boot Record
Extended Boot Record
GUID Partition Table
All the Details of many versions of both MBR (Master Boot Records) and OS Boot Sectors (also called: Volume Boot Records)
The FAT32 Boot Record under Windows™ 2000, XP and 7
MSWIN4.1 OS Boot Record
NTFS Boot Record Secrets
GNU GRUB - GRUB 2 and GRUB Legacy
The EFI System Partition and the Default Boot Behavior
UEFI boot: how does that actually work, then?